Relaxing has never been easier than at the Spornberg.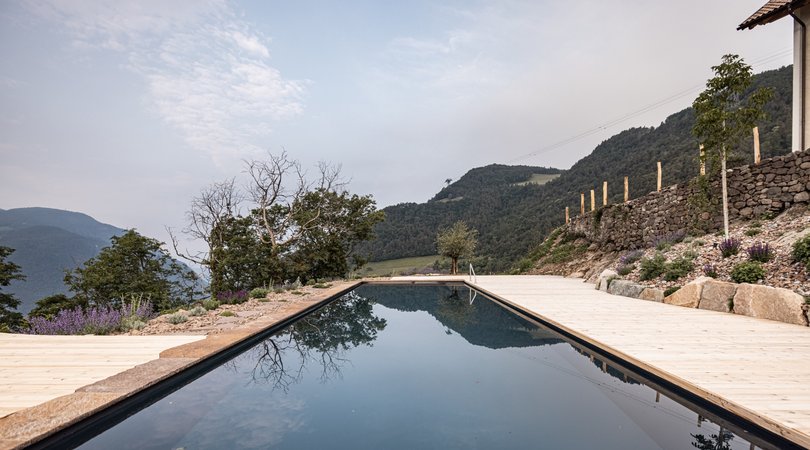 Natural relaxation in the bio-pool
If you've ever had a hard time not doing anything, don't worry – relaxation comes second nature at the Spornberg. Take a dip in the pool, stretch out on the loungers and bask in the glorious warm rays of sunshine. Or maybe leaf through a book taken from our "library" section in the barn. Find your inner balance thanks to our masseuse's expert hands. "Me time" for you and your loved ones takes on a new dimension at the Spornberg so, go on, treat yourself.
Surrounded only by vineyards, meadows and mountains - a view which helps ground you. The only sound you'll hear for miles are those made by nature itself, and the cooler temperatures on the Renon will help you enjoy even the hottest summer days. An ideal place for children to run around and have fun without a care in the world at the playground or on the farmstead itself.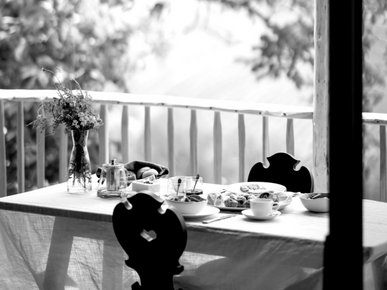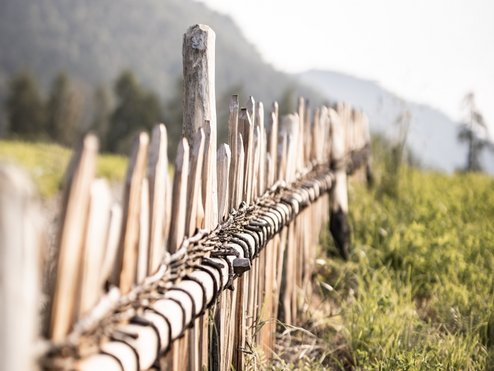 The Spornberg perks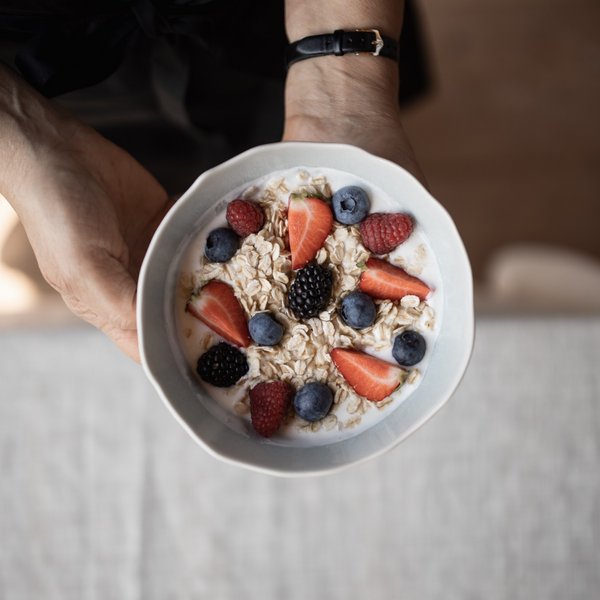 Farm breakfast
The regional SPORNBERG breakfast is served between 7.30 and 10 am. It includes fresh eggs from the Buchhütterhof, homemade jams and marmalades, regional cold cuts and cheese, yoghurts, seasonal fruit, bread made with our own flour and, of course, coffee, teas, and juices. You can enjoy breakfast in the barn or request room service, too.

Regional SPORNBERG dinner
Sitting together to eat in the barn, like the farmers of old did. Join us for dinner in our barn every Thursday at 6 pm. Choose between two menus consisting of regional products – second helpings are encouraged. Wash everything down with our own Spornberg Pinot noir, Pinot grigio, Pinot blanc, water, and juices.
(Dinner not included in apartment price.)

Farm store
Pop into our farm store if you'd like to cook in the apartment or would like a special memento for when you return home. You can find products from our farm or from farmers from the region. Fresh eggs, pasta, typical bread such as Bauernbreatl and Fochaz, South Tyrolean Speck, potatoes, flour from our farm or wine from our winery.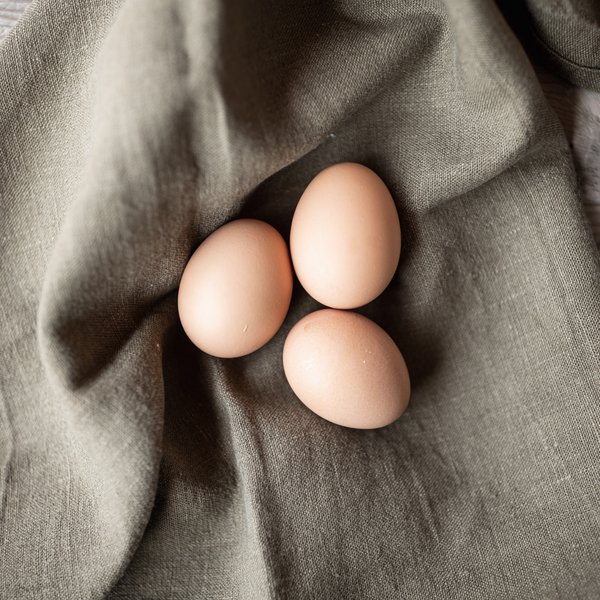 Massage
Our expert masseuse uses the LTC technique to help you regain your inner balance. Traditional Chinese medicine combined with modern knowledge to bridge the harmony of body and soul. For further information, prices, and reservations contact Reception.

See you in the barn?
Our barn is open in the morning all the way to 6 pm – come and join us for breakfast, an aperitif, a look at our library, or meeting other guests.
We also organise events in the barn.
Green mobility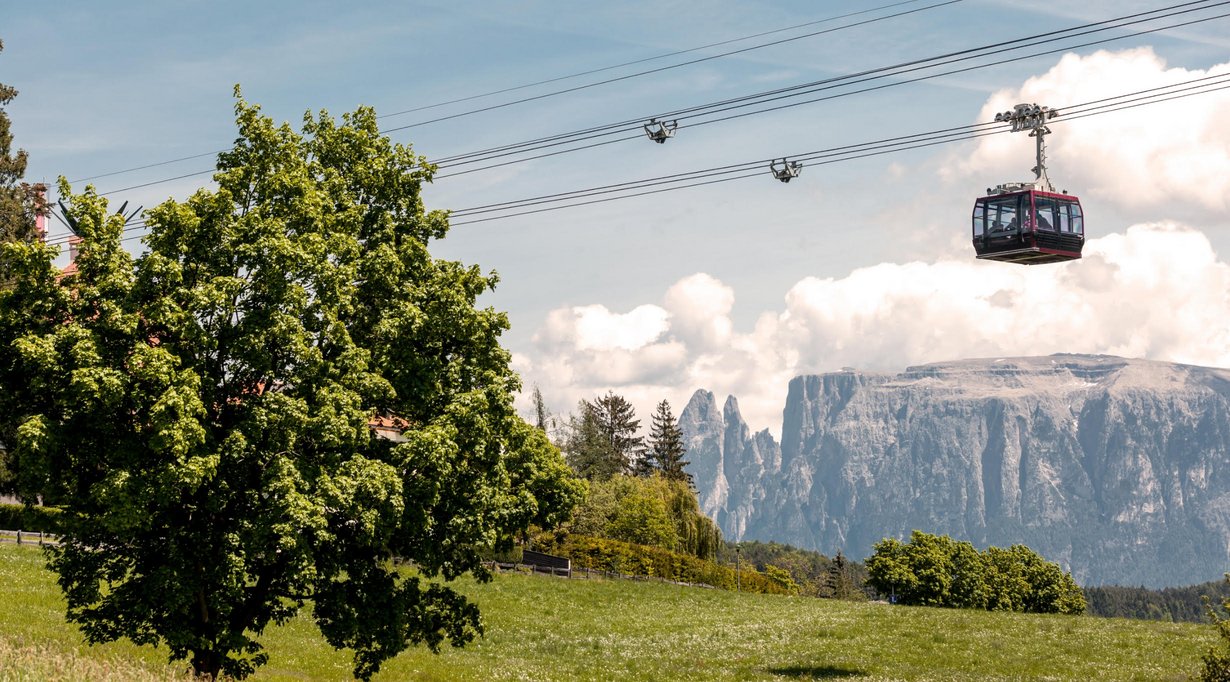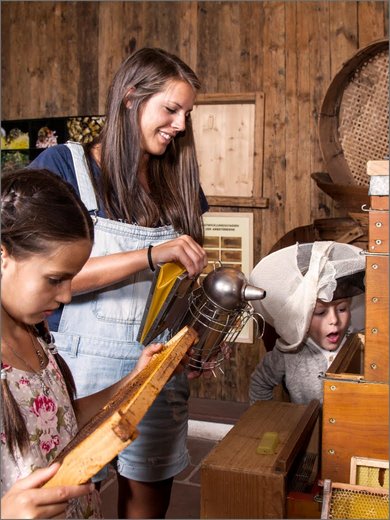 Freedom never felt this good
We'll greet you with a warm smile, and then hand you the Ritten Card. This free tourist card allows you to take all public transport in South Tyrol for free. This includes the Renon cable car, Renon train, and a daily trip up and down the Corno del Renon. The Card will also give you free entry to over 80 South Tyrolean museums and allow you to take part in cultural and hiking programmes on the Renon.
www.ritten.com

E-charging stations
Has your e-bike or e-car run out of juice and you've got places to be, people to see? Don't worry – you can use our e-charging station and top up your e-vehicle with renewable energy sourced from our photovoltaic system before you can say "fasten your seatbelts!" (Service available for a surcharge.)

Pick-up service
Are you travelling by bus, train, or plane? We'll pick you up in Bolzano or Soprabolzano. Just let us know one week before your arrival and how many of you there will be.
The Spornberg 101: everything you need to know during your holiday
Are you travelling by bus, train, or plane? We'll pick you up in Bolzano or Soprabolzano. Just let us know one week before your arrival and how many of you there will be.
Bookings are binding as soon as you transfer a 50% deposit.
The apartment will be free after 3 pm on check-in day. On departure, we ask you to free the rooms by 10 am.
Should you not be able to go on holiday due to COVID-19 travel restrictions, no cancellation policies will apply. Your deposit will be used towards your next booking.
Unfortunately, no pets are allowed.
0–6 years: free stay
7–12 years: 1/3 of the apartment's price per person/day
13–18 years: 2/3 of the apartment's price per person/day

We're happy to provide a cot and highchair in the apartment if needed.
In Italy the law states each accommodation must charge a local tourist tax, which in our case is €1.75 per guest from the age of 14 per night. This tax is included in our prices.
Each apartment has its own covered parking space (free) as well as an e-charging station (for a surcharge) supplying sustainable energy.
No smoking is allowed indoors at the Spornberg. You can smoke outside. We ask you to use the dedicated ashtrays.
The cleaning service upon check-out is included in the price. When checking in, let us know if you'd like the apartment cleaned during your stay (€50 per cleaning session).
We recommend you take out a travel insurance policy, for example with Europäische Reiseversicherung.
A right of withdrawal pursuant to the Italian Consumer Protection Code is not allowed. Nevertheless, we grant a right of withdrawal under the following cancellation conditions pursuant to Art. 1382 of the Civil Code:
Cancellation within 3 months before arrival: deposit will be retained
Cancellation within 4 weeks before arrival: 70% of the total amount will be charged.
Cancellation within 1 week before arrival or late arrival: 100% of the total amount will be charged.
You can pay in cash, bank transfer, debit and credit card.